For the Love of Jazz
OJE has a long rich tradition of music making dating back to 1986
Who we are as a music organization can be somewhat answered by viewing this very short slice of OJE history through posters, plaques and news articles. The Otsego Jazz Ensemble has been involved with many community events over the years as well as our usual Summer jazz concerts, and the occasional wedding or a lucky break here and there on an aircraft carrier (ok, just kidding on that one, that's just the Air Zoo in Kazoo).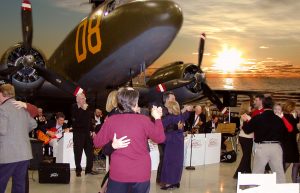 You can also get a pretty good take on who we are by reading News from OJE Creative Director written by Tim Culver, a kind of historical blog started a few years ago. Tim also narrated a short video about the band on YouTube.
A look at our many decades in existence can help to describe the heart of the band, reflected in some of the images you can find on the website.
One of the band's favorite recurring gigs was the Red Cross fund raiser. We called it the "Battle of the Bands" and basically had a friendly musical duke out with the Beltline Big Band from Grand Rapids. Playing back and forth to best the other benefited the dancers and was a real hoot for both bands!
Unfortunately, that event along with the Beltline Big Band are just another part of OJE history, but no longer in the present.
The OJE has performed at quite a few wedding receptions over the years. Probably the reception that long time band members remember the most fondly, is the one we performed on the top floor of the Old Kent building in Grand Rapids (around the early 90's). After the contracted three hours were done, the bride and groom purchased another hour on the spot, which made four hours, then they purchased another, for a five hour gig!
The gallery that follows speaks volumes and goes back nearly 31 years.