The Otsego Jazz Ensemble brings a great variety of American music to Kalamazoo's First Presbyterian Church on Friday, October 5th at 6:30pm. It's on the same day as the October Kalamazoo Art Hop. Come after and during Art Hop and enjoy an evening of big band music with the Otsego Jazz Ensemble.
Who: The Otsego Jazz Ensemble
What: FREE Concert of Big Band Jazz at First Pres
When: Friday, October 5, 2018 from 6:30-8:15 PM
Where: First Presbyterian Church, 321 South Street, Kalamazoo
Donations to benefit the First Presbyterian Church Performing Arts Fund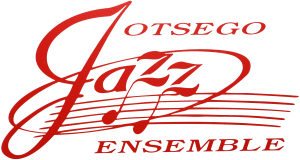 The 17-piece jazz band, based in Otsego, has been together for more than 30 years. The OJE, as it's affectionately known by fans, plays music from the big band era including Glenn Miller, Duke Ellington and Count Basie as well as more modern big band jazz arrangements that cover many styles of music like rock, pop and jazz. Being a traditional big band of five saxes, four trombones, four trumpets and a rhythm section, the band also has two vocalists who perform the music of Frank Sinatra, Ella Fitzgerald, Diane Schurr and Michael Buble'.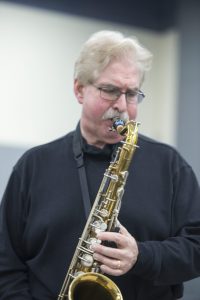 The Band led by Creative Director Tim Culver, trumpeter and saxophonist who has co-led the Kalamazoo Big Band for more than 30 years, and plays in the Gull Lake Jazz Orchestra and Lew Boyd Band. Culver joined the OJE trumpet section about 12 years ago. He says its a hard working group.
"Everybody in OJE takes the music seriously and we all really give it a lot of time and effort. As audiences change, it's a challenge for the band to change and adapt. We play all dance styles for the ballroom dancers. We're also adding rock and pop arrangements. The music of groups like Chicago, Blood Sweat and Tears, Pat Metheny and Tower of Power are all a great fit for a band like ours. We love to put a lot of variety in our concerts."
Guest artist for this concert is actor, radio host, comedian and jazz vocalist Wayne Powers. The veteran of the New York and Los Angeles scene, Powers landed in Kalamazoo three years ago. He just released his second album, "If Love Were All". Powers recently got married and is in the process of moving to Chicago with his new bride. Powers will sing "Birth of the Blues", "A Foggy Day", "All of Me" and "They Can't Take That Away From Me."
Also featured as a guest artist is saxophonist Gary McCourry. Gary retired after 23 years with the Premier Military Band at West Point, including the Jazz Knights. Gary relocated back to West Michigan where he plays with the Grand Rapids Jazz Orchestra, Gull Lake Jazz Orchestra, Truth-In-Jazz Orchestra, Beltline Big Band, Kalamazoo Big Band and Rhythm Section Jazz Band. Gary also leads the Beer City Saxes. McCourry will be featured on several numbers, including Pat Metheny's "James", a Maynard Ferguson version of "Gellar's Cellar", and "Birdland" by Joe Zawinul.
Among selections for this concert will be a beautiful Wally Menard arrangement of "When October Goes", sung by OJE vocalist and trombone soloist Martha Reid. Menard recently retired from OJE's sax section, and has written many great arrangements for the band. The song lyrics to "When October Goes" were written by Johnny Mercer. After he died, his widow passed the lyrics to her husband's friend, Barry Manilow, who finished the song in 1984.
Culver will play the haunting Billy Strayhorn ballad, "Chelsea Bridge". Tenor Sax soloist Scott Robbins will play on Carlos Santana's "Europa", and a swinging Count Basie version of Cole Porter's "At Long Last Love."
The concert coincides with the October 5th Kalamazoo Art Hop. Art Hop is an evening of exhibits and events held in downtown
Kalamazoo and the surrounding neighborhoods. It's a FREE event and one of the best things you can do on the First Friday of the month….every month!
Who: The Otsego Jazz Ensemble
What: FREE Concert of Big Band Jazz at First Pres
When: Friday, October 5, 2018 from 6:30-8:15 PM
Where: First Presbyterian Church, 321 South Street, Kalamazoo
Donations to benefit the First Presbyterian Church Performing Arts Fund